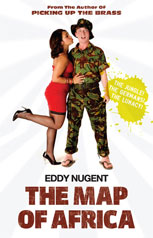 Eddy Nugent & The Map Of Africa
– Eddy Nugent
price:
£8.99
(+ free postage & packing in the
UK - overseas buyers please contact us first)
this book is available for immediate dispatch

Published 24th September, 2009 – Paperback
ISBN:
978-1-906308-11-7
Buy
this as an
eBook
NOTE:
Kindle software needed – you will be directed to a free Kindle download for PC and Apple Mac

Book Description

We last saw Eddy – star of
Picking Up The Brass
– as he boarded a train to the airport to catch his flight to Belize.


Eddy Nugent And The Map Of Africa
catches up with him in 1990, and follows his adventures in the jungles and fleshpots of Central America – and then his posting to the slightly less glamorous Nuneaton, via the British Army of the Rhine and Catterick.

It's the same cocktail of booze, soldierly high-jinks and scrapes which end with someone in pain, or in military prison, or sometimes in both… though there are worrying signs that Eddy may be starting to grow up.

Written by two former soldiers, Ian Deacon and Charlie Bell, Eddy's career closely follows their own and Map Of Africa will be recognised instantly and fondly by all serving and former servicemen. Strong-stomached 'civvies', both male and female, will also enjoy its amusing and truthful insights into armed forces life.



also available
Picking Up The Brass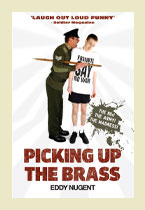 << back to current books
<< buy more books