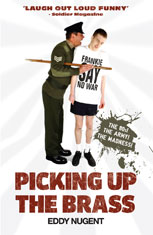 Picking Up The Brass
– Eddy Nugent
price:
£8.99
(+ free postage & packing in the
UK - overseas buyers please contact us first)
this book is available for immediate dispatch

Published 31st July, 2008 – Paperback
ISBN:
978-1-906308-03-2


Buy
this as an
eBook
NOTE:
Kindle software needed – you will be directed to a free Kindle download for PC and Apple Mac

Download
a
free
extract from this book


Click above to download a
18
page extract.
NOTE:
Adobe Reader
is required to view this PDF file

Book Description

It's 1985, The Smiths are in the charts and Maggie Thatcher is in No10.
Eddy Nugent's
in Manchester, he's 16 and he's slowly going out of his mind with boredom. So what does he do? He goes and joins the British Army. Overnight, he leaves the relative sanity of civvie street and falls headlong into the lunatic parallel universe of basic training: a terrifying (and accidentally hilarious) life of press ups, boot polish and drill at the hands of a bunch of right bastards. Gradually, he finds his feet and settles down to life as a soldier. There's still plenty of press ups, boot polish and drill to occupy him, but he also finds time for beer, girls and other bad behaviour.
Andy McNab
he isn't.


Picking Up The Brass
is a riotous,
FHM
-approved
look at life as an ordinary young recruit - the kind of lad who doesn't end up in the SAS or become an underwater knife-fighting instructor.
'Eddy Nugent'
is the nom de plume of two former soldiers, Ian Deacon and Charlie Bell. Closely based on their own experiences, it's a must-read for anyone who has served, anyone who is planning to join up or anyone who's ever thought, 'Surely not every soldier in the Army is trained to kill people with a toothpick?'


also available
Eddy Nugent & The Map Of Africa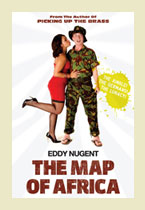 << back to current books
<< buy more books