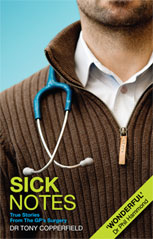 Sick Notes
True Stories From The GP's Surgery
– Dr Tony Copperfield
price:
£8.99
(+ free postage & packing in the
UK - overseas buyers please contact us first)
this book is available for immediate dispatch

Published June 10, 2010 – Paperback / 320PP
ISBN:
978-1-906308-14-8

Buy
this as an
eBook
NOTE:
Kindle software needed – you will be directed to a free Kindle download for PC and Apple Mac

Download
a
free
extract from this book


Click above to download a
21
page extract.
NOTE:
Adobe Reader
is required to view this PDF file

Book Description

Everyone visits the doctor – but few really know what goes on in the surgery (or the doctor's mind).

SICK NOTES
is the hilarious, shocking and occasionally tragic truth about the working life of a British GP – written for the lay reader.

Dr Tony Copperfield
is an average GP in an average town. He spends his life fighting off the worried well armed with internet print outs and health pages torn from newspapers, dealing with youngsters with meningitis (three live, one doesn't), worrying about swine flu, mopping up vomit, shouting at bureaucrats and banging his head against the brick walls of the NHS.
If you've ever wondered whether you have 'Syndrome X', if doctors believe all those guidelines about daily booze limits and why they don't do night calls any more, Copperfield has the answers.


Dr Tony Copperfield
is a Times medical columnist, former Medical Journalist of the Year and Pulse writer.

First print run book cover for Sick Notes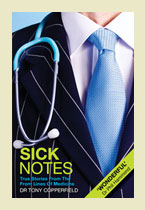 << back to current books
<< buy more books