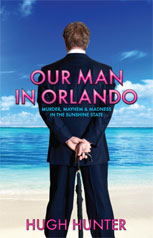 Our Man In Orlando
– Hugh Hunter
price:
£8.99
(+ free postage & packing in the
UK - overseas buyers please contact us first)
this book is available for immediate dispatch

Published Summer 2010 – Paperback / 288PP
ISBN:
978-1-906308-15-5


Buy
this as an
eBook
NOTE:
Kindle software needed – you will be directed to a free Kindle download for PC and Apple Mac

Download
a
free
extract from this book

Click above to download a
21
page extract.
NOTE:
Adobe Reader
is required to view this PDF file

Book Description

Hugh Hunter
thought he'd landed his dream job as
Our Man in Orlando
– The Queen's Representative in sun-soaked Florida. After all, Orlando is the No1 destination for British holidaymakers – who wouldn't want to be paid to spend his life on the sun-soaked sands of America's most popular vacation state? But he soon found out it wasn't quite like that – and life in charge of Britain's Consular Office in the teeming Disneyworld city turned into a nightmare. The beaches, nightclubs and resorts in his new home were swarming with Britons, but not all of them were there for a good time. From Day One, his working week was an endless round of prison visits to meet British murderers, drug dealers and conmen – desperate people with terrifying tales to tell. Most of these stories never made it back home – until now, when they're told with humour, pace and candour by Hunter.

<< back to current books
<< buy more books