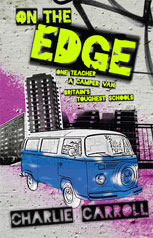 On The Edge
One Teacher, A Camper Van, Britain's Toughest Schools
– Charlie Carroll
price:
£8.99
(+ free postage & packing in the
UK - overseas buyers please contact us first)
this book is available for immediate dispatch

Published October 2010 – Paperback / 288pp
ISBN: 978-1-906308-17-9


Buy
this as an
eBook
NOTE:
Kindle software needed – you will be directed to a free Kindle download for PC and Apple Mac

Download
a
free
extract from this book


Click above to download an
8
page extract.
NOTE:
Adobe Reader
is required to view this PDF file

Book Description

Charlie Carroll
finds himself teaching English to nice children in a nice school. It's the perfect job – so why is he so bored?
Determined to find out why a staggering 50% of British teachers quit within five years of qualifying, he gives up his safe, steady life, buys a rusty old VW camper van and spends the next year on the road – travelling around the country's most deprived areas and teaching problem pupils in our toughest schools.
He soon finds the answer to his question. These are places where the kids beat up the staff, take drugs (in lessons) and – to Charlie's despair – show absolutely no interest in learning. By night, he shivers in his unheated van, living on a diet of beans on toast and cabernet sauvignon; by day, he tries to keep order in lessons on the edge of anarchy. Knife-threats, cyber-bullying and fights are common, and most of his pupils have no ambition, no prospects and no hope.
It sounds like a nightmare, and often is. But while he fears for his safety, Charlie finds glimmers of optimism in the worst of areas – youngsters from terrible backgrounds who are succeeding against the odds.
This is a shocking but humorous diary of life in a world most of us never see.

<< back to current books
<< buy more books