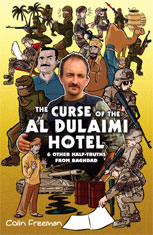 The Curse Of The Al Dulaimi Hotel
And Other Half-Truths From Baghdad
– Colin Freeman
price:
£7.99
(+ free postage & packing in the
UK - overseas buyers please contact us first)
this book is available for immediate dispatch

Published 31st July, 2008 – Paperback
ISBN:
978-1-906308-02-5


Buy
this as an
eBook
NOTE:
Kindle software needed – you will be directed to a free Kindle download for PC and Apple Mac

Download
a
free
extract from this book


Click above to download a
16
page extract.
NOTE:
Adobe Reader
is required to view this PDF file

Book Description

COLIN FREEMAN
is a burnt-out newspaper hack, wasting his life hanging around outside the houses of minor celebrities. His job is soul-destroyingly pointless and his personal life isn't much better. His girlfriend wants commitment he can't give and the future looks bleak. So he jacks it all in and goes to Iraq – as Britain's most amateur war correspondent. Shacked up in a filthy $5 a night hotel, he finds a city – and a country – in turmoil. Half the people he meets are mad, drunk or fanatical
(and armed to the teeth)
and the other half are trying to rebuild their lives after George Bush's invasion. Against the odds, Freeman finds his feet as a reporter and reveals a slice of Iraq unlike any other
(and gets shot in the backside for his troubles)
.

The Curse of the Al Dulaimi Hotel
– half of the inhabitants are kidnapped or, like Freeman, shot – is a hilarious and insightful travelogue from the edges of modern journalism.


also available
Kidnapped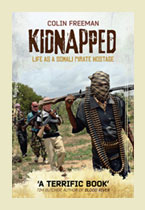 << back to current books
<< buy more books