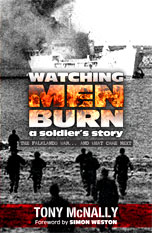 Watching Men Burn:
A Soldier's Story
The Falklands War... And What Came Next

– Tony McNally
price:
£7.99
(+ free postage & packing in the
UK - overseas buyers please contact us first)
this book is available for immediate dispatch
Published 4th May, 2007 – Paperback
ISBN:
978-0-9552854-5-5

Buy
this as an
eBook
NOTE:
Kindle software needed – you will be directed to a free Kindle download for PC and Apple Mac

Download
a
free
extract from this book


Click above to download a
13
page extract.
NOTE:
Adobe Reader
is required to view this PDF file

Book Description

Missile operator
TONY MCNALLY
had a vital job in the Falklands - to protect the British ships and men from air attack by the fearless and desperate Argentinian pilots. On the 8th of June, 1982, McNally and his Rapier system were dug in on the hillside overlooking Bluff Cove, guarding the Sir Galahad troop ship as it sat waiting to offload hundreds of soldiers. Suddenly, enemy fighter bombers screamed into the bay... and McNally's system failed. He watched, helpless, as bombs rained down on the defenceless ship. Fifty men of the Welsh Guards lost their lives and many others - famously including Simon Weston - were horribly burned. McNally's life changed in that moment. He left the army after the war and - though he re-enlisted and even volunteered for two tours of Northern Ireland - he was riddled by guilt and plagued by nightmares and flashbacks of that awful day. He later fought a groundbreaking Post Traumatic Stress law suit against the government but continues to suffer the after-effects of Bluff Cove to this day. Twenty five years on,
Watching Men Burn
is his gripping, moving and occasionally funny story of army life and the dreadful reality of warfare and its effects on the survivors.
Foreword by Simon Weston
.


<< back to current books
<< buy more books