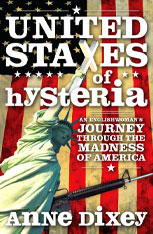 United States Of Hysteria:

An English Woman's Journey Through The Madness Of America
– Anne Dixey
price:
£7.99
(+ free postage & packing in the
UK - overseas buyers please contact us first)
This Book Is Currently Out Of Stock


Published 22nd April, 2008 – Paperback
ISBN:
978-1-906308-01-8
Download
a
free
extract from this book


Click above to download a
10
page extract.
NOTE:
Adobe Reader
is required to view this PDF file

Book Description

Ever wondered what it would be like to live the American dream? When British writer
Anne Dixey
moves to the States with her young family, she's looking forward to a new life in the nation's capital. Behind the white picket fences of suburbia, the sun always shines, perfect soccer moms bake endless cookies and everyone has a God. But beneath the surface, she finds a strange, alien country, terrorised after 9/11 and living in fear of anthrax scares, school shootings and random murder.

This is her fascinating, moving and funny story – of an outsider in America during extraordinary times.


<< back to current books
<< buy more books