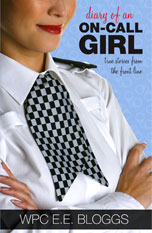 Diary Of An On-Call Girl
True Stories From The Front Line
– WPC E.E. Bloggs
price:
£7.99
(+ free postage & packing in the
UK - overseas buyers please contact us first)
this book is available for immediate dispatch

Published September, 2007 – Paperback
ISBN:
978-0-9552854-7-9

Buy
this as an
eBook
NOTE:
Kindle software needed – you will be directed to a free Kindle download for PC and Apple Mac

Download
a
free
extract from this book


Click above to download a
16
page extract.
NOTE:
Adobe Reader
is required to view this PDF file

Book Description

If crime is the sickness, WPC Ellie Bloggs is the cure... Well, she is when she's not inside the nick, flirting with male officers, buying doughnuts for the sergeant and hacking her way through a jungle of emails, forms and government targets.

Of course, in amongst the tea-making, gossip and boyfriend trouble, real work sometimes intrudes. Luckily, as a woman, she can multi-task...switching effortlessly between gobby drunks, angry chavs and the merely bonkers.
WPC Bloggs
is a real-life policewoman, who occasionally arrests some very naughty people.
Diary of an On-Call Girl
is her hilarious, despairing dispatch from the front line of modern British lunacy.


WARNING: Contains satire, irony and traces of sarcasm.


Based on her hilarious blog about life as a police woman –
'
PC Bloggs
- a Twenty-First Century Police Officer'


Follow the further adventures of
PC Bloggs
at
http://pcbloggs.blogspot.com

also available
Wasting Police Time
Perverting The Course Of Justice
Wasting More Police Time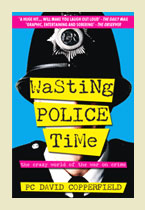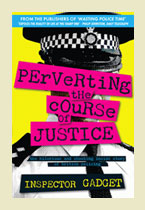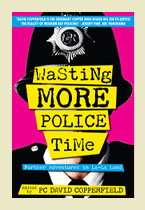 << back to current books
<< buy more books