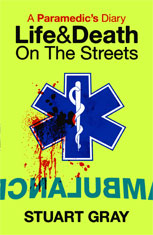 A Paramedic's Diary
Life & Death On The Streets
– Stuart Gray
price:
£7.99
(+ free postage & packing in the
UK - overseas buyers please contact us first)
Out Of Print


Published September, 2007 – Paperback
ISBN:
978-0-9552854-9-3


Buy
this as an
eBook
NOTE:
Kindle software needed – you will be directed to a free Kindle download for PC and Apple Mac

Download
a
free
extract from this book


Click above to download a
19
page extract.
NOTE:
Adobe Reader
is required to view this PDF file

Book Description

STUART GRAY
is a London Ambulance Service paramedic and this is a diary of a year in his working life. It's a moving, funny and absolutely gripping insight into the business of saving lives in the world's most famous city.



Read more of Stuart's gripping insight online at
http://theparamedicsdiary.blogspot.com/

<< back to current books
<< buy more books